Presents
Am.Can.U-GR.Int'l.Nat'l.Ch.Malagold's Wave To The Flag,BISS
Sire: Malagold's Raise The Flag
Dam: Malagold Tupelo Summerblonde
Whelped: 07/07/05
Hips:GR-93390E24M-PI,Elbows GR-EL16274M24-PI,Eyes, GR-33590, Heart, GR-CA12998/12M/C-PI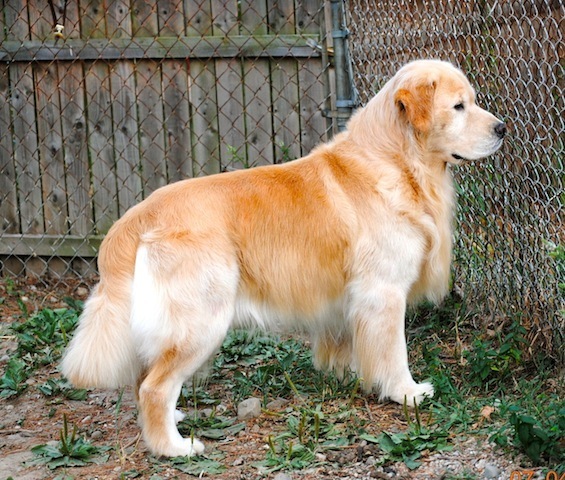 Flag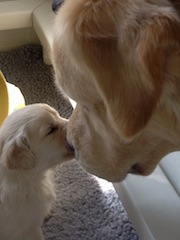 Achievements:
Flag is a 3 time Best In Sweepstakes winner, under breeder judges Tammy Tomlinson-Hillock, Pam Oxenburg-Toasty and Labrador breeder Mike Silva. Four Major reserves from the 9-12 puppy dog class.

I don't think we could ever describe what a fabulous dog Flag is! One of the best we've ever owned. He is loyal, confident and pretty much rules the house here at Sunwind. He is everything we could ever hope for in a dog. With a pedigree like his, we can see why. One of my favorite dog's is his grandfather Ch. Malagold's Trade Secret. An elegant, beautiful dog that caught my eye the moment I saw him! Then, of course, there's his great-grandfather "Starbuck" Ch. Highmark's Cowboy Coffee, SDHF. What more can you say about Buck that has not already been said! Incredible dog with a body that just won't quit.

And, of course we could never forget "Dickens" Ch. Carlin's Holiday A Xmas Carol, OS who is another great-grandfather in this pedigree! He is one of my all time favorite dog's and we are proud to have a piece of him in this pedigree. And, "Stormy" Ch. Malagold's Storm Warning, SDHF, OS. With a record like Stormy's, what more could you ask for!

But, the most important thing is, that Flag has become such an important part of our family. He brings us laughter, love and loyalty. He is the best companion I could ever hope for, and I just couldn't imagine life without him!
Sadly, we lost Flag on May 21st 2016 to an enlarged prostate problem. He is greatly missed and will live on in his progeny. RIP our beautiful boy! Till we meet again!
Pedigree of "Am.Can.U-GR.Int'l.Nat'l.Ch.Malagold's Wave To The Flag,BISS"

Parents
GrandParents
GreatGrandParents
SIRE

Malagold's Raise The Flag

Ch. Malagold's Trade Secret

Ch. Rising Star My Guy
Malagold's Victoria's Secret
Ch. Hunts Echo Of Malagold
BIS,BISS Am.Can.Ch. Malagold Storm Warning OS,SDHF
Hunts Nancy

DAM

Malagold Tupelo Summerblonde

MWM Highmark's Paddy Malone
BISS Ch.Highmark's Cowboy Coffee SDHF,OS
Ch. MWM's Luck Of The Irish
Malagold's Lucky In Love
Ch. Malagold's Trade Secret
Malagold's Four Leaf Clover